Benjamin Moore Paint Information
We have provided technical information for Benjamin Moore Paints and their History to give our customers a clear insight into the quality of this wonderful product.

Benjamin Moore Product Range - (in store now)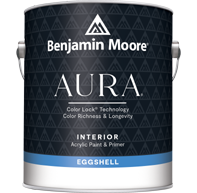 Aura Paint Range - Interior
Aura® delivers remarkable durability and offers the most advanced way to bring colour to life. Using our exclusive Colour Lock® technology, Aura paint brings you discernably richer, truer colour. Visibly thicker, Aura paint covers like no other, even in the deepest shades. Finishes include Matte, Satin, Eggshell and Semi-gloss.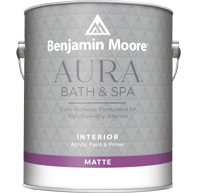 Aura Bath & Spa - Interior
With a beautiful matte finish, Aura® Bath & Spa is a premium-quality interior paint specially formulated to resist mould and mildew growth in humid areas such as bathrooms and spas.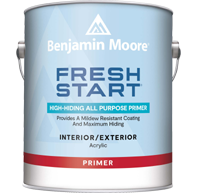 Fresh Start Primer - Interior / Exterior
Benjamin Moore primers ensure the best possible results by providing a proper foundation for every finish coat. Our general purpose primers combine superior performance, such as excellent adhesion and sealing with great application properties, such as excellent flow and fast recoat times. Our task specific primers are considered best in class, balancing the need for oustanding functional performance with ease of use.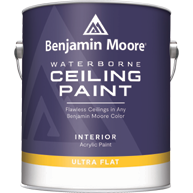 Ceiling Paint - Interior
Specially formulated for ceilings, Waterborne Ceiling Paint is ultra flat so it hides common ceiling imperfections for a look that is virtually flawless. Benjamin Moore Ceilings paint provides ample open time to ensure minimal lapping, has minimal spatter and dries quickly for fast recoat. Available in white and 1800 light colours.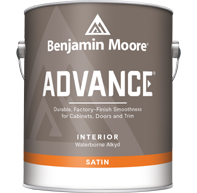 Advance Primer & Paint - Interior
Advance offers the application and performance of a traditional solvent based paint but in a waterborne formula that cleans up with soap and water. It is a 100% water-dispersible alkyd, developed with proprietary new resins that keep VOCs* low even after tinting. It flows and levels like a traditional alkyd with the extended open-time required to achieve a high-end finish. Advance is available in unlimited colours, giving you more ways than ever to achieve the perfect look on every job. Finishes include Satin & High Gloss.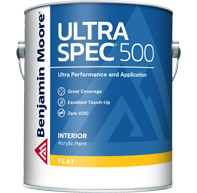 Ultra Spec 500 - Interior
Ultra Spec 500® is a professional quality interior coating designed to meet the needs to professional painting contractors, facility managers and property managers. Available in a wide range of sheens and unlimited colours, professionals will appreciate its excellent hide and touch up properties, good flow and leveling and easy application. Finishes include Flat, Eggshell, Semi-Gloss & Gloss.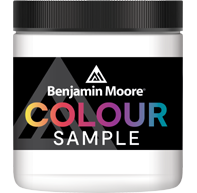 Colour Samples - interior
Benjamin Moore® Colour Samples allow you to "try on" a paint colour before you commit to the time and expense of painting an entire room. Interior designers and professional painters do a "brush out" when deciding on colour. This involves applying paint to a small section of the wall or several walls to see how the colour looks in the actual environment. By sampling a colour at home, you'll get the most accurate sense of how the colour will actually look in the room.
Each of our 1 pint (473ml) colour samples covers approximately five 1m
2
areas with two coats of paint. You can test a number of different colours at a time. You can also paint smaller test swatches on several walls to see how a particular colour will look throughout a room under various lighting conditions.
Colour samples are available in all Benjamin Moore colours and are available in an interior eggshell finish.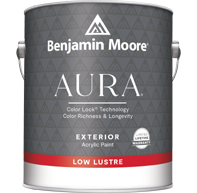 Aura Paint Range - Exterior
Aura® Exterior combines the outstanding advantages of our proprietary resins and Colour Lock® technology to deliver rich, full colour and unprecedented durability. Aura protects against cracking, peeling and fading, and is also mildew and stain resistant. Finishes include Flat, Low Lustre & Satin.
Ultra Spec Exterior
Professional quality exterior paint for an outstanding finish in commerical spaces
Aura Grand Entrance - Exterior
Aura® Grand Entrance brings rich, vivid colour and exceptional durability to your doors and trim. Aura Grand Entrance cures to a lustrous finish that lends your home a look of elegance and luxury. Specially formulated to retain colour integrity and gloss, this enamel is easy to apply, has excellent hide and is available in unlimited colours.
Aura® Grand Entrance has a dedicated of colours which are particularly suited to front doors, due to their extraordinary depth and vibrancy. Finishes include Satin & High Gloss.
Further Stock Available - (coming soon)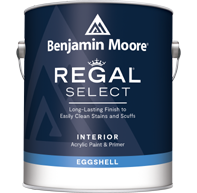 Regal Select Range - interior
Regal® Select offers the premium performance and smooth application you've come to expect from our classic paint, with the added benefit of cutting-edge technologies that make this a highly washable paint with outstanding stain resistance. Finishes include Flat, Matte, Eggshell & Pearl.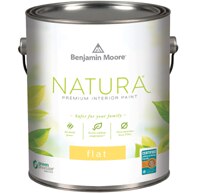 Natura - Interior
Natura® is a zero emissions
product with an enviable range of third party accreditations that endorse the product as being safer for you
A quick-drying epoxy-modified acrylic floor enamel that provides a super durable finish that is resistant to marring, scratching and chemicals such as soap, detergents, grease and oil. It is suitable interior and exterior use on multiple surfaces such as concrete, decks, wooden floors and stairs, and masonry surfaces.
and less harmful to the environment, all without compromising on performance or colour selection.
Natura is certified as asthma and allergy friendly™ by the Asthma and Allergy association of America
as well as being Cradle to Cradle Certified™ by the Cradle to Cradle Products Innovation Institute.
Natura is truly "green without compromise®".
Finishes include Flat & Semi-Gloss.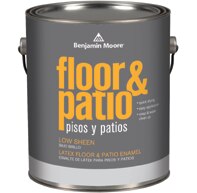 Floor & Patio Paint - Interior / Exterior
A quick-drying epoxy-modified acrylic floor enamel that provides a super durable finish that is resistant to marring, scratching and chemicals such as soap, detergents, grease and oil. It is suitable interior and exterior use on multiple surfaces such as concrete, decks, wooden floors and stairs, and masonry surfaces.
Arborcoat Exterior Wood Stain
Arborcoat® wood stain offers superior protection for exterior wood, while enhancing the natural texture and grain of wooden surfaces. Available in solid, semi-solid and a translucent finish, Arborcoat protects and colours without obscuring the grain or texture of the wood. Arborcoat is suitable for all types of exterior wood such as windows and doors, wooden cladding, decks, garden furniture, sheds and fences.
Chalkboard Paint - Interior
Get creative with our Chalkboard paint, available in any of our 3,500 colours, that turns virtually any surface into an erasable chalkboard.
Studio Finishes Metallic Glaze - Interior
Stunning, iridescent metallic finishes, designed to create beautiful metallic special effects. Being water-based, these acrylic glazes are easy to apply and dry quickly to a transluscent metallic lustre. Available in Gold, Silver, Bronze and Copper.
Colour Technology
Manufactured with its own proprietary resins, Gennex waterborne colourants are what sets Benjamin Moore paints apart from the competition.
Typical colourants weaken paint and make it thinner and more difficult to apply. They also reduce the film's washability, allowing colour to rub off and fade
But minimal VOC
*
Gennex colourant actually fortify the paint, so it maintains its original viscosity in all colours, delivering a more durable finish, and maintains true scrubbability. This makes the paint easier to work with and ensures that you are satisfied with the finish for years to come.
Gennex colourants deliver;
Consistent durability in any colour
The durability of paint tinted with conventional colourant drops significantly as the colour depth increases, but the durability of paint tinted with Gennex colourants remains consistent across all colour depths. Benjamin Moore extends its durability testing to its deepest colours, not just the whites, so you can be sure the deepest colours are just as washable and durable as the pales.
Superior hiding power
Gennex colourants do not weaken the paint's ability to hide, so you can cover previous finishes, stains and imperfections in fewer coats, using less paint overall and finishing the job more quickly.
Better fade resistance for improved colour retention
With Gennex colourants, you can be confident that the cured film in exterior paints will stand up to the harshest weather conditions – including constant UV exposure – in all colours. So years from now, you will still feel proud of the beautiful and long lasting finish on your home.
Minimal VOC* for environmental responsibility
Gennex colourants contain minimal VOC's
*
, so even in the darkest colours our tinted paint retains the lowest VOC
*
rating.
VOC
*
stands for Volatile Organic Content and is measured in Benjamin Moore products according to the United States Environment Protection Agency Method 24.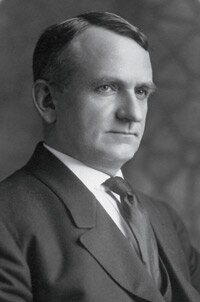 Benjamin Moore History
1883, Irish born Benjamin Moore and his brother Robert opened Moore Brothers in Brooklyn, New York, having first emigrated from Ireland in 1872. True entrepreneurs, they started with $2,000 and one product, "Moore's Prepared Calsom Finish," which was sold exclusively through independent retailers. Moore Brothers built their company on Benjamin Moore's belief in "The exercise of intelligent industry in the spirit of integrity", and a dedication to manufacturing excellence and quality.
Moore Brothers Paint Company opened at 55, Atlantic Avenue in Brooklyn, New York. The building burnt down within a year, but the brothers moved to a new location and were back in business 3 days later, displaying a tenacity that would serve their company well throughout its long life. Benjamin and Robert established a New York corporation in 1889 and soon after they incorporated in New Jersey, the company's current home.
Benjamin Moore Products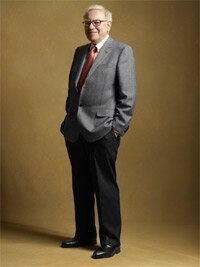 Benjamin Moore & Co. a Berkshire Hathaway company, was founded in 1883. One of North America's leading manufacturers of premium quality residential, commercial and industrial maintenance coatings, Benjamin Moore maintains a relentless commitment to sustainable manufacturing practices and continues to develop the most eco-responsible formulations
.
Benjamin Moore & Co. is at the forefront of product innovation, with a commitment to research and development unrivaled in the architectural coatings industry. At Benjamin Moore laboratories and manufacturing facilities, scientists and technicians work to exceed the already superior application, performance properties, and environmental safety of the products. Benjamin Moore's commitment to colour inspires an ongoing search for the perfect hues, the ones that lead customers to claim: "that's the colour I want."
More than a century of commitment to producing superior products and unrivaled colours has its rewards: Benjamin Moore's paint is the number one choice of interior designers. People who choose our products know they'll get the inspiration and support to make their vision reality. They depend on our extraordinary colours and product performance. Their trust defines Benjamin Moore.
Thanks for taking time to read into this fantastic product we hope you share our view and choose to use it in your next project.
David Robinson & Peter Guthrie.